Just search for the "best water heaters of 2022," and you can find a supposed "Buyer's Choice" in every brand imaginable. So which one is best? Naturally, this can be misleading and confusing for consumers! We're here to remedy that confusion.
An online search can provide you with general knowledge and product reviews, but Google won't take into consideration your unique needs. This is why we recommend scheduling a visit with us.
When you ask "What kind of water heater should I get?" during a consultation with one of our professional technicians, you'll get valuable insight instead of questionable reviews.
Can I Switch From a Gas Tank Water Heater to a Tankless Unit?
Yes! Tankless water heaters are noticeably more energy efficient. While changing from tank to tankless water heater may have a higher initial cost, it has a longer lifespan. The expenses of switching systems come from modifying your home's ventilation, water lines, gas lines and may require running a new outlet for the tankless. There are sometimes rebates for moving from tank to tankless water heaters, too.
What Kind of Water Heater Can I Get Without Gas Lines?
If your home is in an area without gas lines or you don't have a propane tank, electric water heaters are likely your only choice for getting hot water. Those homeowners with solar panels can also power their electric water heaters at a low cost.
Electric water heaters are rather uncommon in Utah due to the low cost of natural gas. However, electric water heaters are not suitable for most people as they will use a significant amount of power to produce a lower volume of hot water than a gas tank or tankless water heater would. And while they often have commercial applications, we wouldn't recommend them to most homeowners.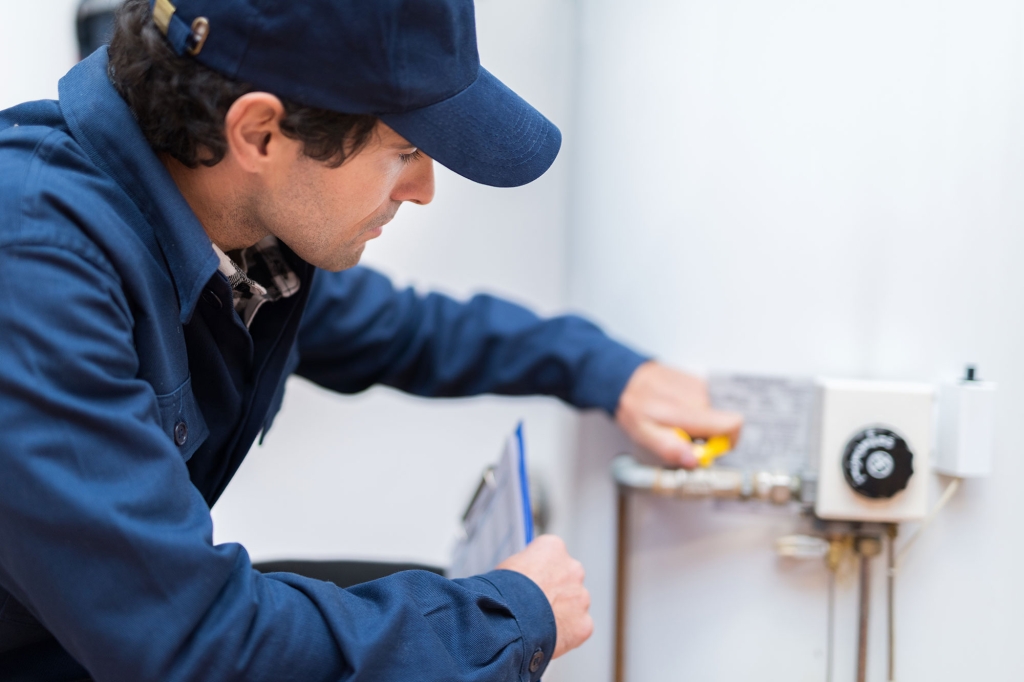 Best Water Heaters
Our Expert Services- Plumbing, Heating, Air & Electrical opinion are based on decades of hands-on experience. We service every make and model of water heater, so we've been able to pick up on trending complaints regarding each brand. However, we've also seen a similar trend across every water heater brand where units are great for several years and then drop in quality during the rollout of different features.
The biggest complaints we hear are about units that come from big box stores, such as Lowe's or Home Depot, that can be purchased and delivered directly to the consumer. The water heater brand that has had the most recent bout of complaints and problems is Rheem. Another significant issue faced by customers purchasing these units is a lack of repair parts. Units sold by large retailers have slight modifications, and these stores do not carry the replacement parts. Some customers have ended up waiting several days or weeks to get replacement parts.
Of course, the best water heater for you depends on your budget, the number of people living in the house, and the specific features of your home. So, let's go over what our experts recommend in most cases.
Best Gas Tank Water Heater — Bradford White is a superior brand of water heater, one we've used for many years. They're American-made, which means any necessary parts are easily accessible. Bradford White has one of the best warranty departments with readily available repair or replacement parts for water heaters that already have a very low failure rate. And, in our opinion, they have the best customer service, which in turn allows us to give you the best service possible. Their units range widely in price, too, so you can get a quality gas tank water heater that still fits your budget.
Best Electric Water Heater — Bradford White electric water heaters deliver outstanding performance, efficiency, and reliability. For these reasons, we believe they offer the best electric water heaters.
Best Tankless Gas Water Heater — We recommend a variety of tankless water heaters depending on your particular needs. Brands we recommend are Bosch for their self-calibration and ease of setup; Rinnai for commercial applications and particular recirculation systems or venting challenges; and Navien for tankless boilers, or those with gas line challenges. Expert Services- Plumbing, Heating, Air & Electrical is a factory-certified service provider for all these brands and carries repair and replacement parts for these units.
However, keep in mind that tankless water heaters don't hold much water, so they may not be suitable for a larger home or family.
Best Tankless Electric Water Heater — Homes without a gas line or propane tank can enjoy the advantages of on-demand hot water by installing tankless units powered by electricity. However, tankless electric water heaters are not usually suitable for homeowners. They're much more expensive to install; they run on electricity (obviously) so if your power goes out, so does your hot water; and the amount of water it can heat at once is severely limited. If a tankless electric water heater is your top choice, talk to one of our experts about the best brand available.
As one of Utah's top plumbing providers, Expert Services- Plumbing, Heating, Air & Electrical is happy to repair and maintain all kinds of water heaters–any brand, make, and model! Or if you're ready to get the best water heater of 2022 for your Utah home, call us today!
Sources:
https://www.thisoldhouse.com/plumbing/21019184/read-this-before-you-buy-a-tankless-water-heater
https://www.forbes.com/advisor/home-improvement/tankless-water-heater-pros-cons/
https://www.consumerreports.org/cro/water-heaters/buying-guide/index.htm